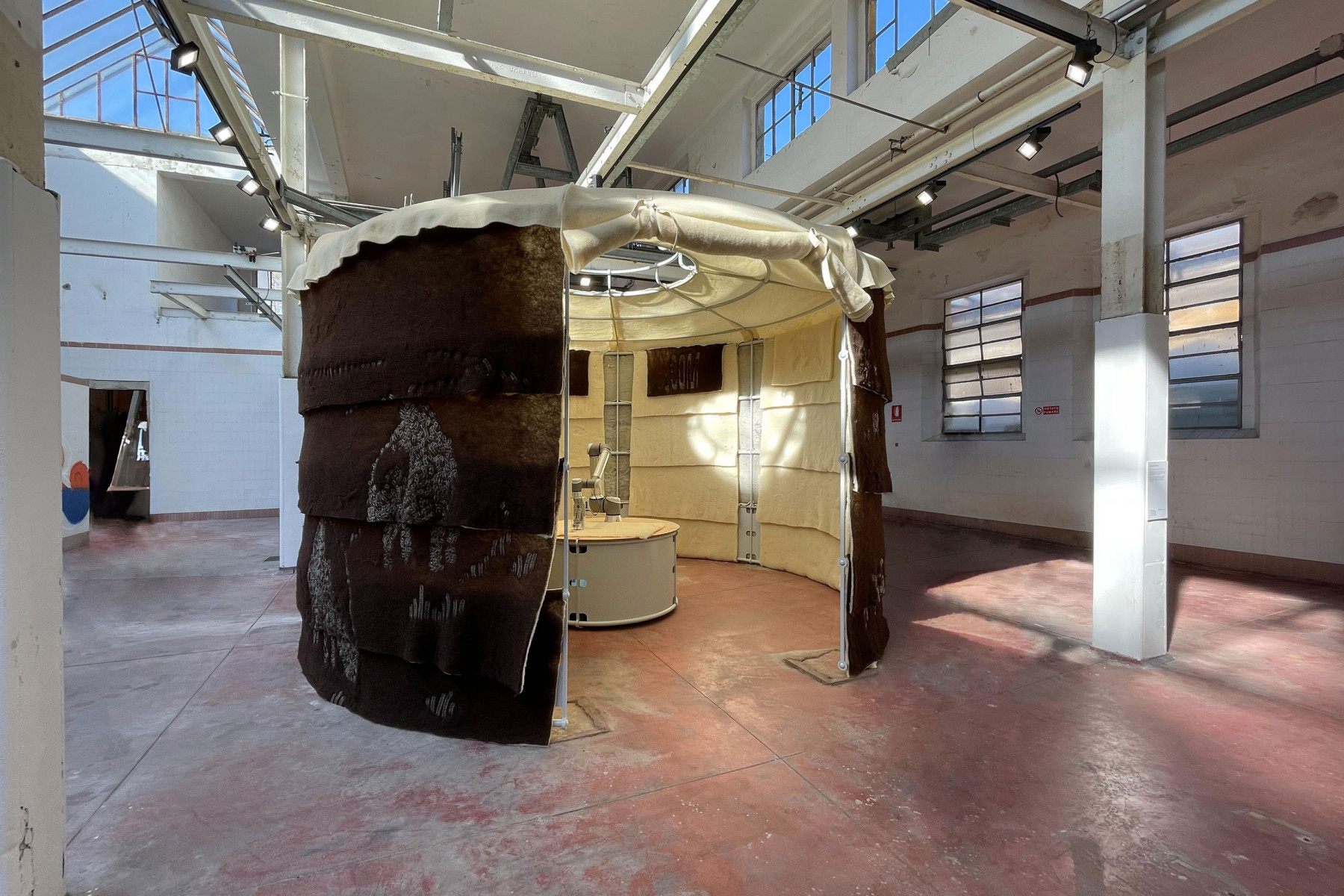 Bioregional Design Practices
Wool-Tools
The Felted Wool Pavilion is part of the Bioregional Design Practices exhibition by Atelier LUMA, presented at Alcova during Milan Design Week 2023 – in collaboration with AATB. The pavilion is showcasing an intermediate result of the research project "Wool Tools", investigating novel felt production. The outside of the pavilion shows a large-scale illustration of a sheep herd in the Camargue Area. The robotic felting technique is used to assemble all the wall layers in a functional felt seam. Inside the pavilion, a robotic arm demonstrates the customised felting process in a live production that combines traditional needle felting, new physical tool and digital methods with its various possibilities to felt typography, illustrations, patterns and gradients.
Wool Tools is an ongoing research project by Atelier LUMA in collaboration with AATB. It intends to examine the needle felting technology by combining it with the benefits of robotic manufacturing. What impact may new technologies have on how we process wool? The project investigates new possibilities for the treatment and aesthetics of felted wool through the creation of new hardware and software.
The robotic felt-production is the consequence of a customised technique of hard and software functionalities. The motorised felting tool at the end of the robot allows to modify the number of needles as well as the pattern in which they are arranged. As a result, the stroke size of the felted pattern might range from one point to several centimeters. The software can handle various data inputs such as SVG, PNG, and JSON. This enables a modular digital manufacturing process, which may still be modified by adjusting the hardware parameters. Wool Tools seeks a balance between digitally controlled tools and conventional felting techniques.