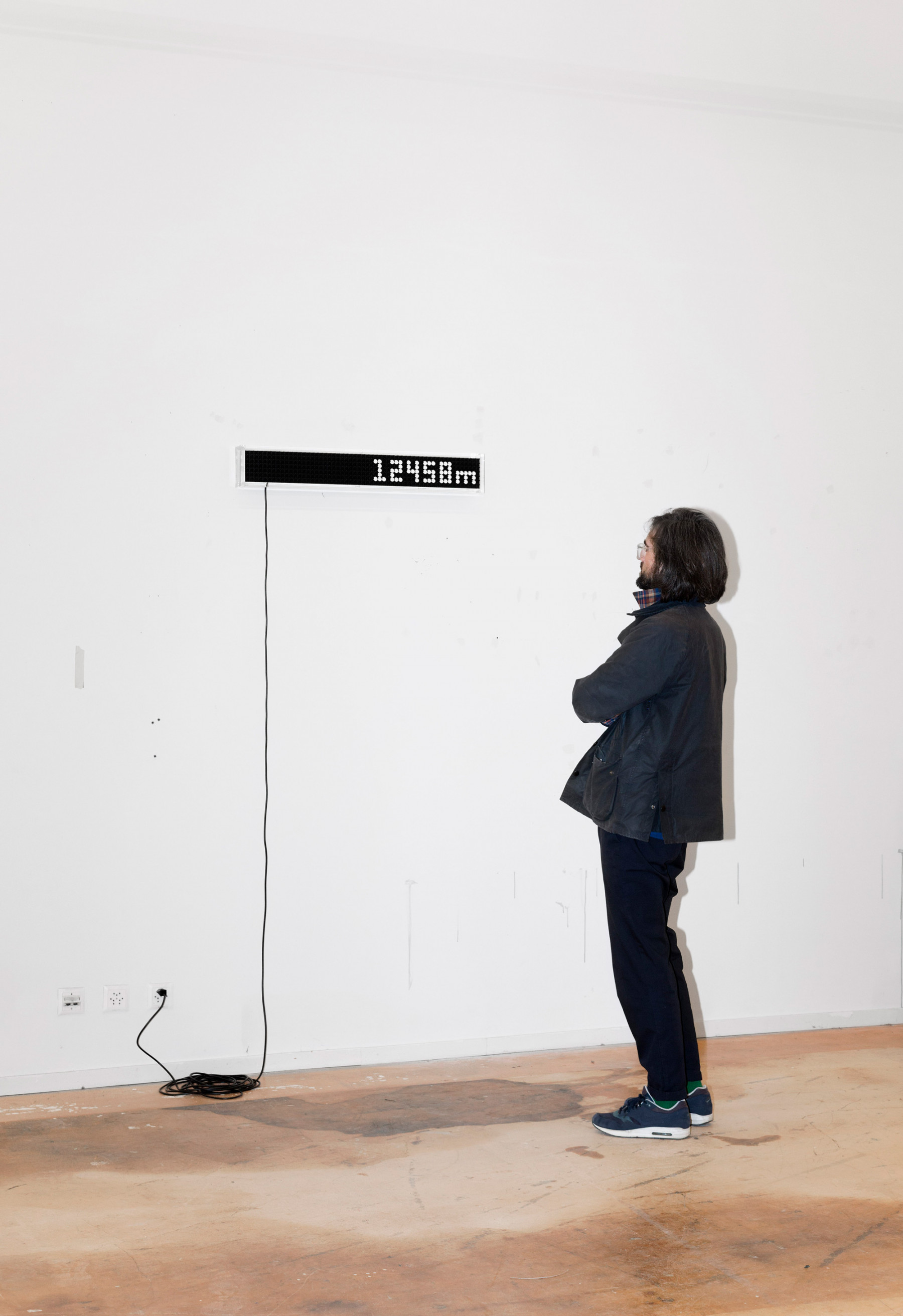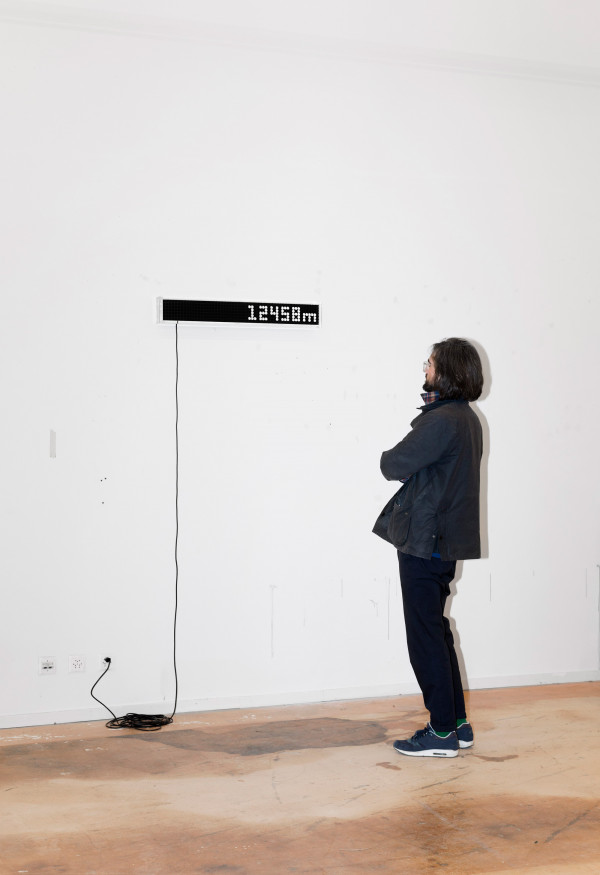 Kinetical Patterns
For more than 100 years, motion has been a stylistic and content-related characteristic in the field of sculpting. Even though, the extraordinary genre seems to lead a niche existence. This extensive presentation wants to give an insight into the current development of this specific genre.

With their works, the five exhibiting artists Ralf Baecker, Jan Bernstein, Thibault Brevet, Carla Chan and Stefan Tiefengraber refer to the substantial potential and the aesthetic future of this diverse form of expression.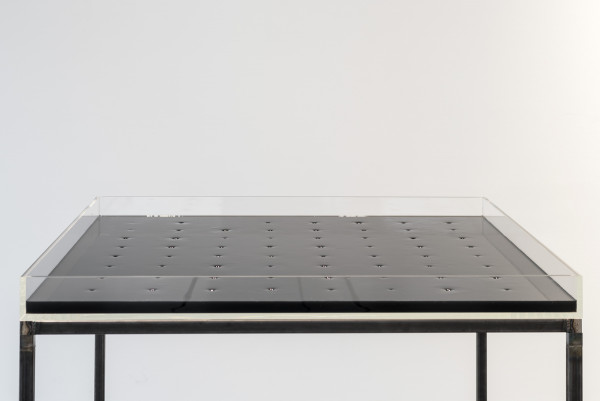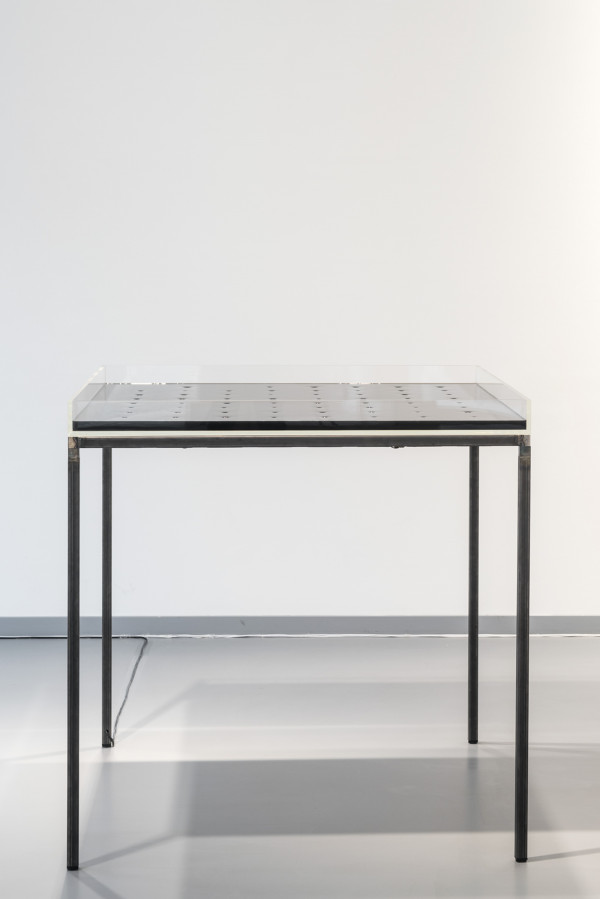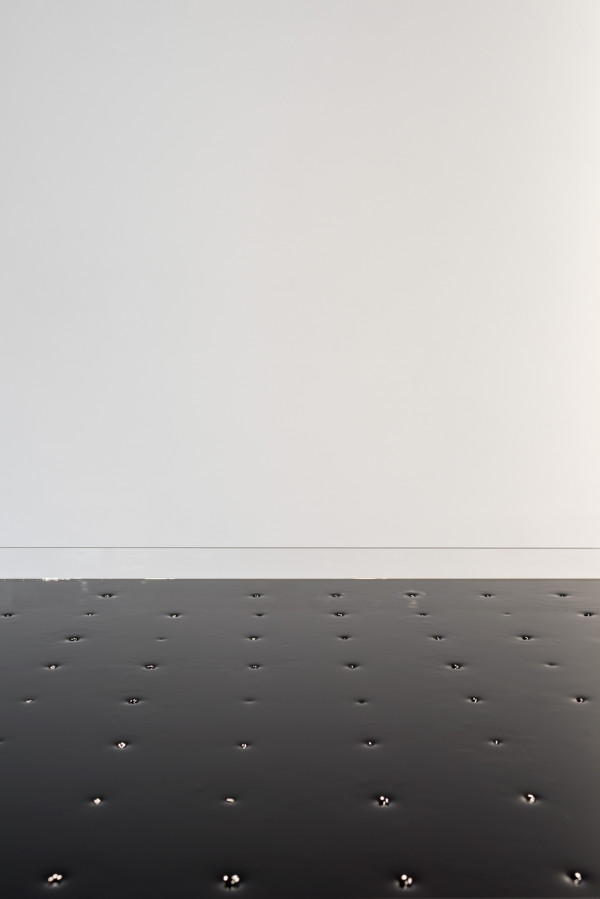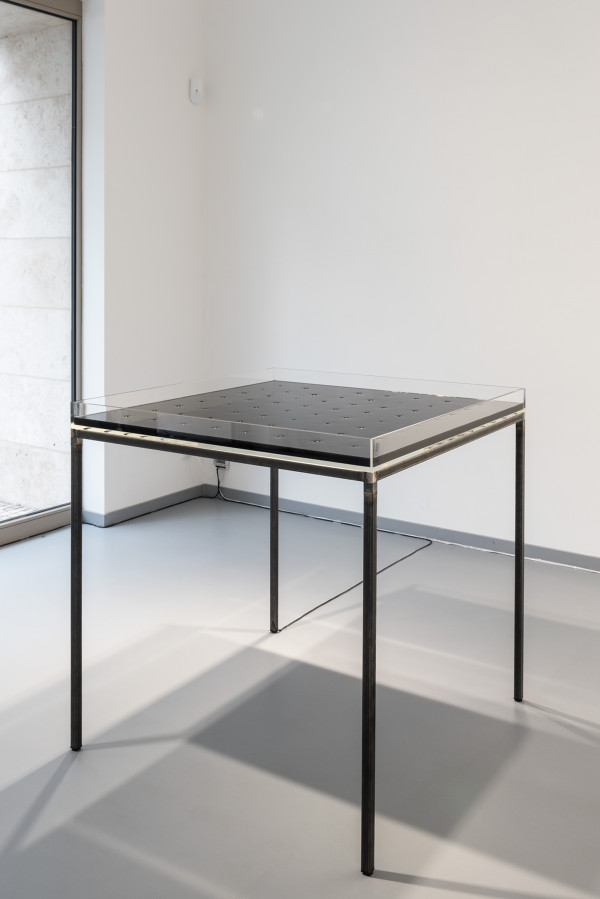 Untitled (64 vortices), 2017
1000 × 1000 × 1000mm
Acrylic glass, steel, black ink, magnetic stirrers, electronics, power supply
Untitled (64 vortices) is a tank of water into which 64 vortices can be observed appearing and disappearing. The whole chaotic, unstable system constantly reconfigures itself as each vortex interacts with neighbouring vortices, alternatively stealing rotational energy or evaporating. Not dissimilar to a cosmic space-time warped by black holes, the work quietly keeps oscillating between stable and fleeting moments.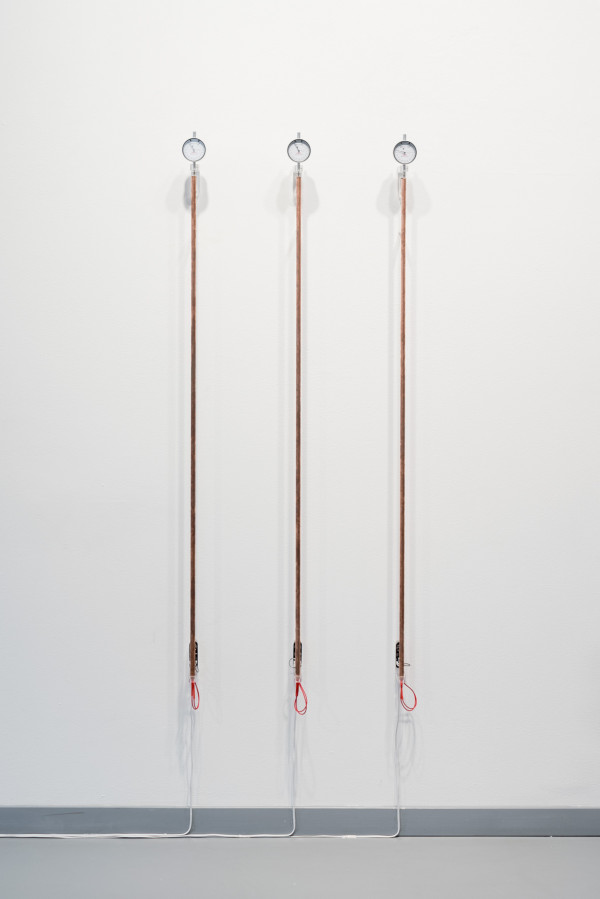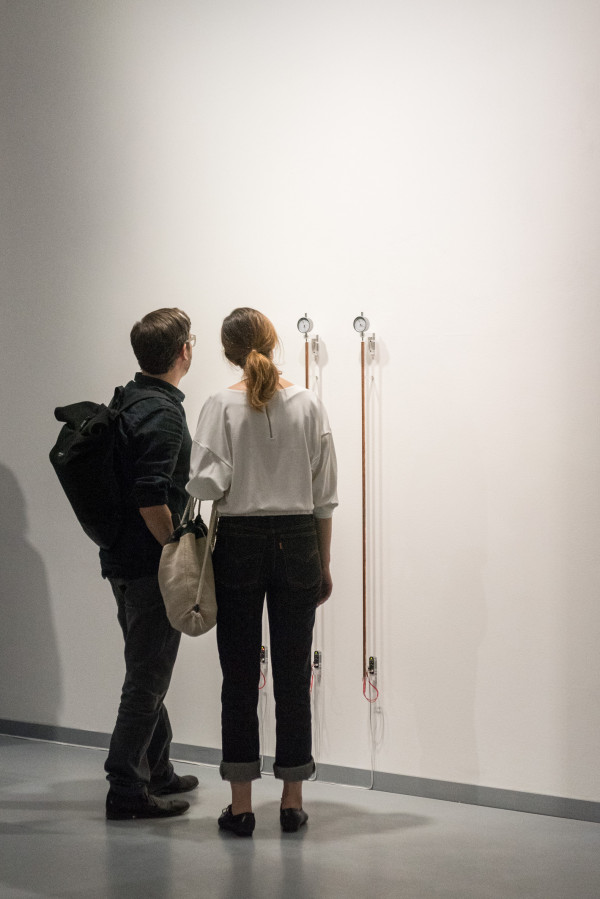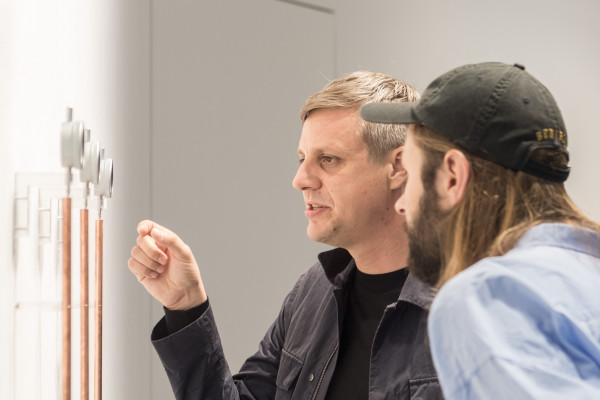 Thermal cycling (3 copper rods), 2017
Copper, heating elements, dial indicators, electronics, power supply
600 × 1400 × 70mm
Thermal cycling is a series of copper rods heating up and cooling down. Each are fitted with precision dial-indicators graduated to 0.001mm. As they warm up and cool down, their physical dimensions expand and contract, visibly measured by the dial indicators fittedat their top.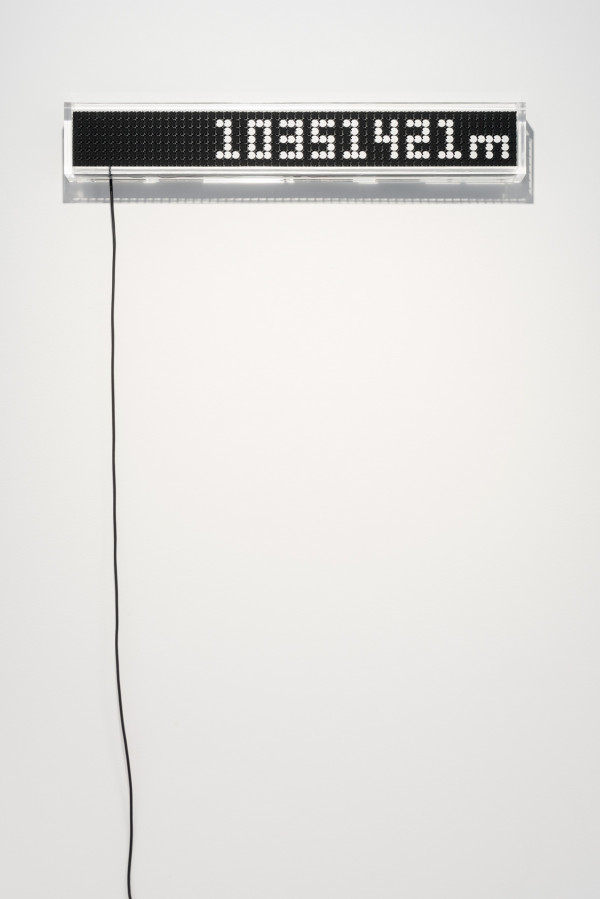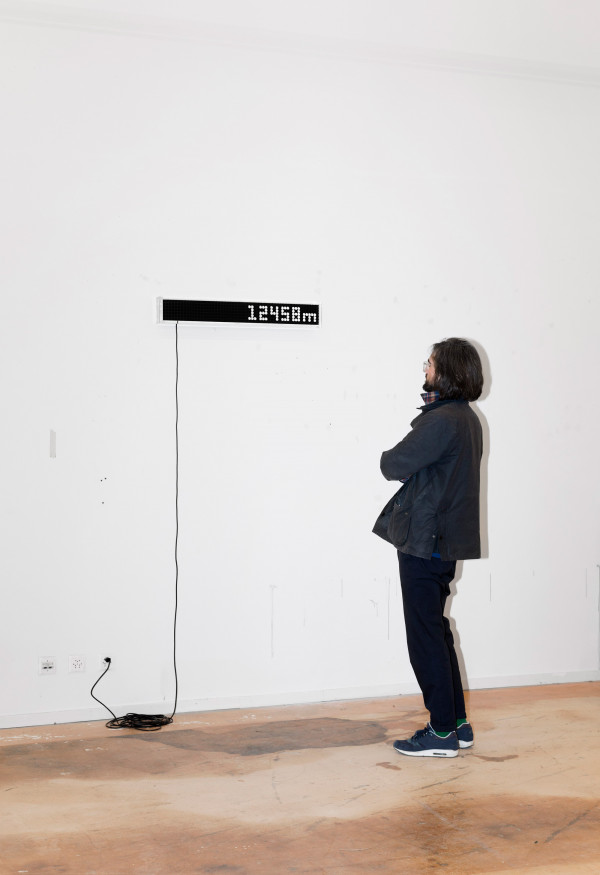 Entangled (ISS), 2017
Flip-dot display, acrylic glass, microcontroller
890 × 140 × 70mm
Entangled (ISS) is a mechanical display showing in real-time the distance from a chosen object. Always connected, always updating, it computes the line-of-sight distance from itself and the observer to a far-out subject. Initially shown during Milan Design Week 2014, it was displaying the distance between itself and the artist, via a custom GPS tracking system installed on his personal phone and showing his whereabouts during the fair. At Galerie Gerken, the work, Entangled (ISS) was displaying the distance between itself and the International Space Station.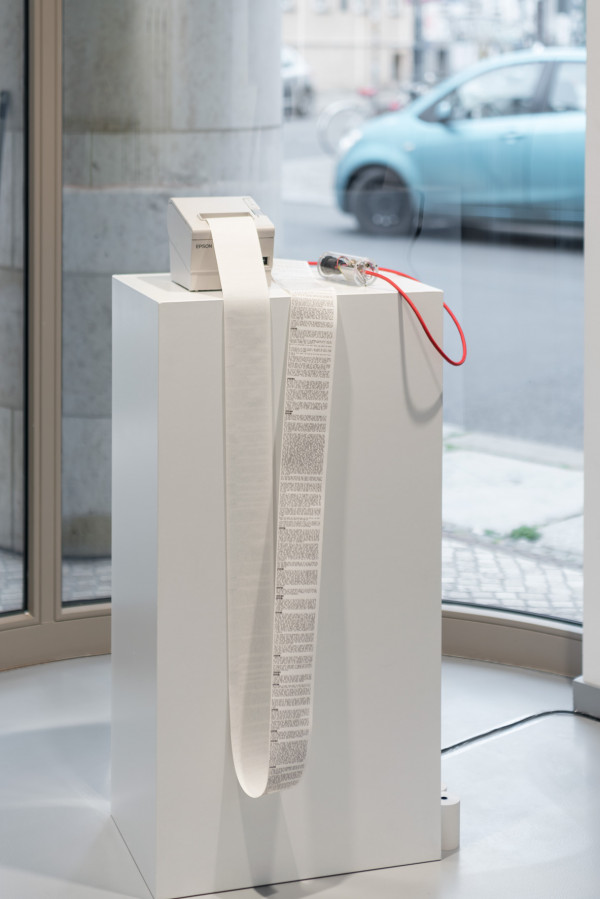 Consti2Go, 2014
Receipt printer, acrylic tube, microcontroller, push button
110 × 50mm
Consti2Go is a portable device with a simple purpose: hijack any receipt printer and send copies of the US Constitution to print. On a press of the button, a 2 meters-long ticket with a full copy of the US Constitution is printed. Commissioned by Harvard Library Innovation Lab for SXSW Interactive 2014.

Winner ProHelvetia Art in Embassies 2015.