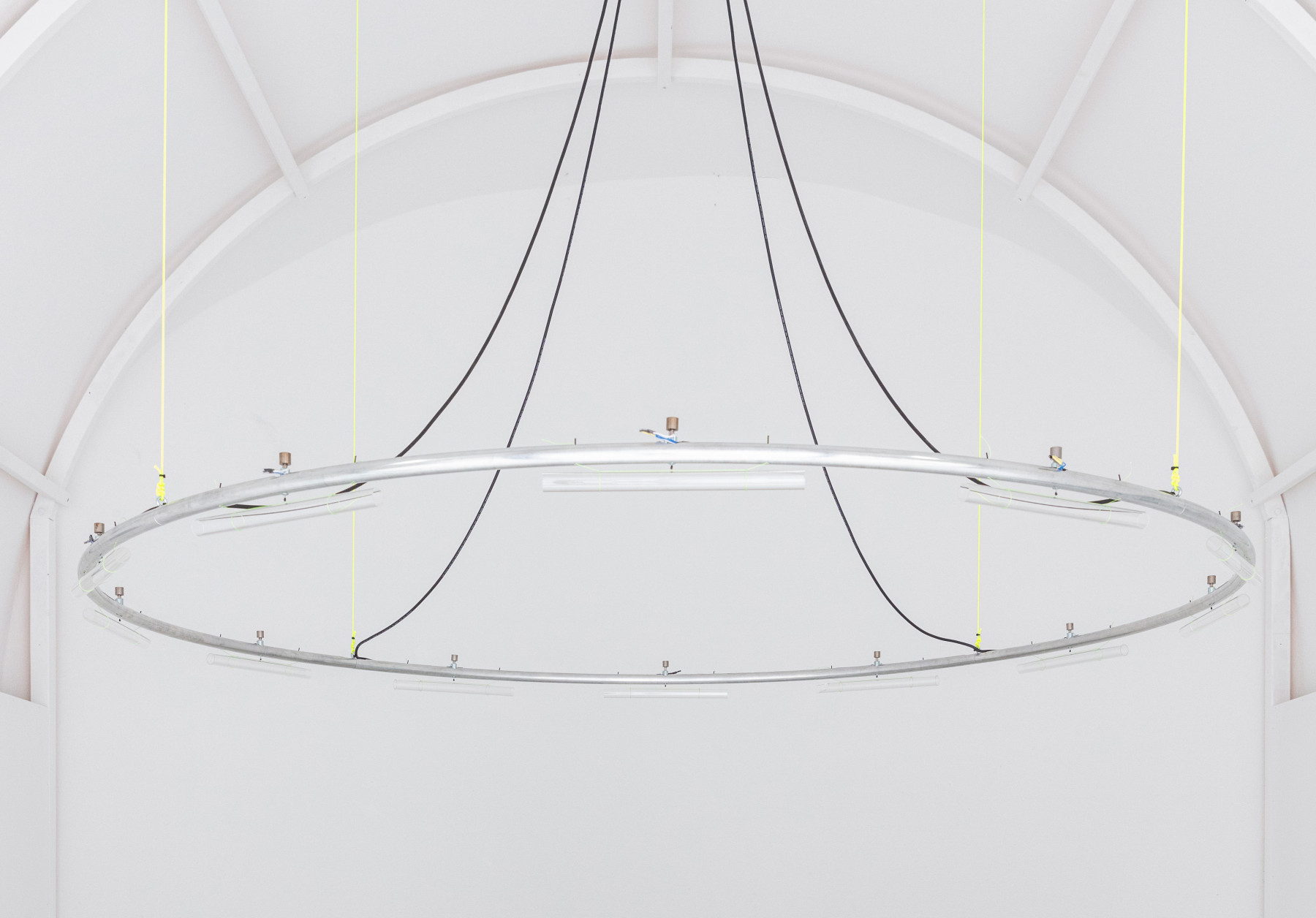 Space is the Place
Installation Process – Full documentation soon.
A Particular Score III, currently on view at Mudac as part of the exhibition "Space is the Place – Cosmos. Design from Here and Beyond".
A Particular Score III,
Sound installation
particle detector, quartz crystal tubes, aluminum, solenoids, electronics.
Cosmic rays are highly energetic forms of radiation, produced by the Sun but also far outside the Solar System, some even from distant galaxies. Upon impact with the Earth's atmosphere, cosmic ray particles produce showers of secondary particles that reach the surface of our planet, to the tune of about 10'000 particles per square meter every minute. In effect there is an invisible cosmic flux that baths all of our surroundings.
The installation "A Particular Score" makes the impact of these particles tangible—through sound—in a given place and in real-time. When a particle hits the detector, the installation reacts by knocking on one of the 12 quartz crystal tubes, forming an unpredictable sequence of audible tones. The score thus progresses irregularly, randomly with each impact as the installation surveys this cosmic stream. It renders perceptible a phenomena that surrounds us yet go beyond us.
Originally commissioned by Bienal da Maia, Porto, Portugal.
Adapted for the exhibition Cosmos at Grand Hornu, Belgium.
Adapted during the residency "Arts at CERN" for mudac.
mudac presents Space is the place, a programme that focuses on the complex relationship between the cosmos and our planet. Bringing together the work of designers, artists and science fiction writers, as well as a wide range of stakeholders in these issues, the programme includes two exhibitions, three publications and a series of events.

Cosmos. Design from Here and Beyond

Black holes, dark matter, nebulae, exoplanets, gravitational waves, the Big Bang, the multiverse… The countless cosmic objects and phenomena that make up our universe are sources of inspiration for literature, music, visual and performing arts… Design is no exception to this fascination.
Since the dawn of humanity, the universe has been an inexhaustible source of wonder. What is our place in this immense expanse of space, whose origins date back 13.8 billion light years ? How did cosmic evolution unfold ? Are we alone ? Why does the universe exist ?
Cosmos, an exhibition produced and presented in 2021 and 2022 at the CID – Grand Hornu in Belgium, unveils the work of designers who have, in conceptual, technical or poetic ways, questioned the architecture of the universe and the hidden laws of physics that govern it. From Einstein's theory of relativity to quantum theory, from gravity to the nature of space and time, from the micro to the macro, the modern image of the cosmos is embodied in various design and architectural projects that take us far beyond its scientific roots, bearing witness to its mysteries and beauty.